Workout Planner
By Kevin Norman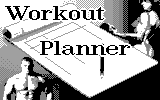 This application helps you record and view your workout achievements.
Use <Up/Down arrows> to select the menu item. Press <Enter> to open it.
New Workout - to add a new workout.
View Records - to view existing records.
Exit - to exit the application.
Version 1.1.18
COPYRIGHT © 2000 CYBIKO, Inc.

Other Resources
Let me know what you thought! Tweet me at @normankev141