Water Puzzle
By Kevin Norman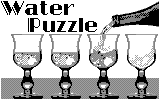 Water Puzzle.
Test your logic and mathematical skills while pouring water into bottles.
The objective is to bring the quantity of water in one of the bottles. Water is poured from and into bottles of different sizes.
Press <Left/Right arrows> to indicate the bottle.
Press <Enter> to mark and to pour the water into another bottle.
Press <Space> if you think that your task is completed.
Press <Esc> to exit.
Version 2.2.5.
COPYRIGHT © 2000 CYBIKO, Inc.

Other Resources
Let me know what you thought! Tweet me at @normankev141