WAP Browser
By Kevin Norman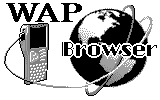 Version 1.2.5
The Cybiko Wireless Application Protocol (WAP) Browser will let your Cybiko computer browse specialized Internet pages that provide information and services to people all around the world!Press <Shift> <Tab> to switch between the browser window and address field.
Use the keypad to enter the WAP page address into the address field, and press <Enter> to load the page.
Press <Up/Down Arrows> to scroll the WAP pages up and down in the browser window.
Press<Enter> in the browser window to follow the currently selected link, or open a currently selected list.
Press <Tab> to switch next link or Address Field.
Press <Select> to cycle through visible links and active elements only (Links and elements that can be seen in the scroll window).
Press <Esc> to go to the Main Menu
COPYRIGHT © 2001 CYBIKO, Inc.

Other Resources
Let me know what you thought! Tweet me at @normankev141