Text Editor Pro
By Kevin Norman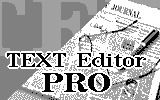 This application allows you to create and edit text notes.
It contains the very useful option of checking the spelling of your texts.
Use alpha-numeric keys to enter text.
Use <Arrows> to move the pointer through the text.
Press <Select> to outline all the words you've entered with errors.
To correct words with errors, move the pointer to the underlined word. Press <Fn> <Select> for a quick search of correct alternatives or press <Shift> <Select> for detailed search of correct alternatives. Select another word from the list and press <Enter> .
Press <Select> to switch off the mode that underlines errors.
Press <Ins> to switch between insert and overwrite mode.
Press <Del> to delete the character.
Press <BkSp> to delete symbols before the pointer.
Press <Enter> to create new paragraph.
Press <Fn> <Left/Right arrows> to move to beginning/end of a line.
Press <Fn> <Up/Down arrows> to move page up/down.
Press <Esc> to close and save the text.
Press <Esc> in the "Open Text File" box to exit the application.
Version 1.1.1
COPYRIGHT © 2000 CYBIKO, Inc.

Other Resources
intro-pic.png - Screenshot of PicView.exe from Cybiko SDK
root-ico.png - Screenshot of PicView.exe from Cybiko SDK
root-spl.txt - Text file converted from iso-8859-1 to utf-8 using iconv
Let me know what you thought! Tweet me at @normankev141