Poindexters Proxy
By Kevin Norman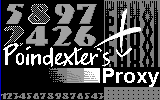 There are numbers falling from the top of the screen. You can control the falling numbers to group them so that the sum of the numbers in a straight line (vertical, horizontal or diagonal) equals ten. If a "ten" line comes in, all the numbers disappear and your score increases greatly. If you combine five 2's in a line, you score 1000 points.
The next level begins if playing field is cleared or every 5,000 points you score. The game is over when one column is full.
Your goal is to score the most points and to pass as many levels as possible.
Press <Left/Right arrows> to move a falling number.
Press <Down arrow> to accelerate a drop of the falling number.
Press <Enter> to pause the game. Press <Enter> again to resume the game.
Press <Esc> to exit or restart the game.
Version 1.5.3
COPYRIGHT © 2000 CYBIKO, Inc.

Other Resources
Let me know what you thought! Tweet me at @normankev141