Plates of Steel
By Kevin Norman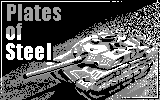 This is a war simulation game for 2 players. The playing field is a terrain with natural surfaces. Each player controls the army consisting of various units with different parameters.
The game consists of two phases: placement phase and war phase.
During the placement phase each player selects, and places the 10 units and one headquarters on their own side of the playing field on empty spaces.
When the players have placed all their units, the war phase begins. In the war phase each player moves in turns. Each player can use all his/her units in a turn. A unit can move and attack. A unit can be repaired if it moves inside own headquarters.
When a player decides that all actions have been completed, he/she must give a turn to the opponent.
If one of the players fully destroys enemy headquarters, captures the enemy headquarters with troop units, or destroys all enemy units, the game ends and this player is a winner. The game can end in draw if there is no possibility to achieve the winning situation.
For full detailed rules see our site www.cybiko.com
To start game select the "Start" item by <Up/Down arrows> and press <Enter> .
Press <Esc> to exit the game.
Read help for each phase.
Version 1.1.18
COPYRIGHT © 2000 CYBIKO, Inc.

Other Resources
Let me know what you thought! Tweet me at @normankev141