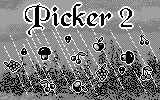 Your goal is to score the most points by picking all the "good" things while avoiding the "bad" ones and obstacles. After a short period of time (if you haven't been killed!) you are advanced to the next level. The game has six levels. There are many bonuses, some of them will help you, but be wary - some will hinder your quest!
Use <Arrows> to control the Picker.
Press <Esc> to exit the game or start a new game.
Version 2.1.10
COPYRIGHT © 2000 CYBIKO, Inc.

Other Resources
Let me know what you thought! Tweet me at @normankev141