PHAT Cash
By Kevin Norman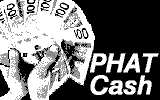 Version 1.1.43
Become a millionaire in this 1 to 7 player game. Your goal is to sell (remove) the entire portfolio by linking them together in a limited time.
You own four types of stocks represented as solid shaded squares: black, white, dark gray and light gray. To sell, you must have two or more of the same stocks linked together horizontally and/or vertically. Find the linked stocks and sell (remove) them. When the stocks are removed, the objects above fill the empty space. A Stockbroker stands on the top of each column. If you sell all stocks from a column, the Broker gives you the commission. Sell the 80% of stocks to go to the second level, and then try to sell the 90% of stocks to go to the third level.
The game ends when you remove all of the squares on the third level, when there are no more moves on any level, or when the time runs out.
Use <Arrows> to move the cursor.
Move your cursor over 2 or more squares of the same color linked together horizontally or vertically and press <Enter> to highlight the linked group. Press <Enter> again to remove the linked group.
Hold <Select> to view the percentage of sold stocks.
Press <Esc> and choose "Quit" to go to the game menu.
COPYRIGHT © 2001 CYBIKO, Inc.


Other Resources
Let me know what you thought! Tweet me at @normankev141