Land of Kings
By Kevin Norman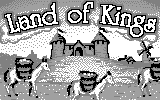 Version 1.1.11
Land of Kings is an economic strategy game played in real time. As the protagonist, you are an heir who has to reclaim the power your father held in bygone days. Along with the defense of your people, you must struggle with the after-effects of natural disasters, increase the technological level, and do just about everything to improve the economic situation of your land. To win the game you have to pass 4 stages of development, described in the Main Menu Help.The game ends when the year 2000 comes, or when all your people die.
For full detailed rules see our site www.cybiko.com.
COPYRIGHT © 2001 CYBIKO, Inc.

Other Resources
Let me know what you thought! Tweet me at @normankev141