Inspiring Quotes
By Kevin Norman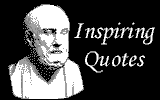 Version 1.1.2
Inspiring Quotes is an application that allows you to read some of the greatest thoughts imparted upon humankind.
Upon starting the application, you are shown a Menu.
Get quote - to get a quote according to your current "Random selection" setting.
Music - to turn on/off the music of this application.
Start every - to turn on/off the mode of automatically giving out a quote over a certain period of time. This period can be changed.
Random selection - to turn on/off random selection of the quotes. If the "Random selection" mode is off, you will get quotes one after another starting with the first.
Exit - to exit the application.
Use <Up/Down arrows> to move the highlight through the items of the Menu.
Press <Enter> , <Tab> or <Right arrow> to mark the value of the highlighted item.
Press <Select> or <Right/Left arrows> to change the value.
Use numeric keys to change the values in "hours" and "minutes" fields.
After you read a quote, press <Esc> or "OK" to return to the Inspiring Quotes Menu, or select "More" to get another quote.
Press <Esc> or select "Exit" to exit the application.
COPYRIGHT © 2001 CYBIKO, Inc.

Other Resources
intro-pic.png - Screenshot of PicView.exe from Cybiko SDK
root-ico.png - Screenshot of PicView.exe from Cybiko SDK
root-spl.txt - Text file converted from iso-8859-1 to utf-8 using iconv
Let me know what you thought! Tweet me at @normankev141