Hard Drive
By Kevin Norman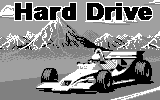 Hard Drive is for 2 players (or single player vs. Cybiko). The object of the game is to be the first player to complete 3 laps. At the beginning a countdown begins, once the word "Go!" is displayed, the players start racing.
Be careful, don't collide with the signs or billboards because it'll take time to bring your car on the track.
The first car to complete 3 laps wins the game.
Use <Enter> to accelerate the car.
Use <Select> to brake the car.
Use <Right/Left arrows> to maneuver the car left or right.
Press <Esc> to exit game.
Version 1.1.11
COPYRIGHT © 2000 CYBIKO, Inc.

Other Resources
Let me know what you thought! Tweet me at @normankev141