Guitar Buddy Pro
By Kevin Norman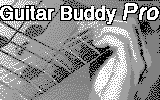 Version 1.1.5
Guitar Buddy Pro is an application for experienced guitarists, with features such as a tuner, metronome, a chord finder allowing you a wider selection of chords, and a scale player with box.
Use <Up/Down arrows> to choose an item and press <Enter> to run it.
Select "Scale Finder" to view different scales with box.
Select "Tuner" to tune your guitar.
Select "Chord Finder" to find the chord and view its graphical presentation.
Select "Metronome" to listen to the beats for any tempo you set.
Select "Exit" or press <Esc> to exit application.
COPYRIGHT © 2001 CYBIKO, Inc.

Other Resources
Let me know what you thought! Tweet me at @normankev141