Guitar Buddy
By Kevin Norman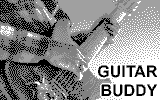 Guitar Buddy is an application for guitarists, with features such as a tuner, metronome, and a chord finder. So you don't have to worry too much about rules!
Use <Up/Down arrows> to choose a menu item and press <Enter> to open it.
Tuner - plays a guitar string tone you can tune.
Chord Finder - shows a picture of the guitar chords.
Metronome - counts beats for tempo you set.
Exit - exits the application.
Version 1.1.1
COPYRIGHT © 2000 CYBIKO, Inc.

Other Resources
Let me know what you thought! Tweet me at @normankev141