Go-Moku 2
By Kevin Norman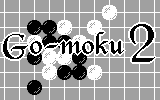 Go-moku is played between two opponents on a 15x15 board with 225 intersections. One player possesses the black stones, the other possesses white. Each player can lay only one stone during his/her move. Black moves first.
To master your opponent you must comprehend the words Go-moku. Row - a combination of stones of the same color, either situated diagonally, vertically, or in a horizontal line - that is limited by the edge of the board, an opponent's stone or a free intersection, or where no opponent's stones have been laid. Unbroken row - a row with no free spaces between any of the stones. Five in a row - an unbroken row with five stones.
The one to master the game is the one to lay five stones in a row.
The game is a draw when all squares on the board are occupied.
Use <Arrows> to select the intersection.
Press <Enter> to make the move.
If you want to see your rating and that of your opponent, press <R> . Press <Enter> to close the rating box.
Press <Esc> to exit the game.
Version 2.1.12
COPYRIGHT © 2000 CYBIKO, Inc.


Other Resources
Let me know what you thought! Tweet me at @normankev141