German Word Eater
By Kevin Norman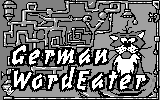 The goal is to find German words among jumbled letters. Blank squares appear when letters of a particular word are removed. The player scores a point for each removed letter. The game ends when a row without blanks reaches the top of the screen. A bomb is awarded for each 10 points scored. Use a bomb to remove a letter from a row without blank squares.
Use <Arrows> to move the pointer.
Press <Tab> to switch between the automatic and manual modes.
Press <Select> to begin and end a selection in the manual mode.
Press <Del> to use a bomb to remove a letter.
Press <Esc> to quit the game.
Version 1.1.7
COPYRIGHT © 2000 CYBIKO, Inc.


Other Resources
intro-pic.png - Screenshot of PicView.exe from Cybiko SDK
root-ico.png - Screenshot of PicView.exe from Cybiko SDK
root-spl.txt - Text file converted from iso-8859-1 to utf-8 using iconv
Let me know what you thought! Tweet me at @normankev141