Disaster Outpost 2
By Kevin Norman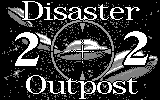 Version 1.2.14
This is a single player game. You control a military space ship. The object of the game is to obtain the highest score, by destroying all of the enemy ships on the screen, at which point you will advance to the next level. Meteors appear from time to time to hit you. The meteors can't be destroyed: the only way to save your ship is to avoid collision. You can only shoot two bullets at a time at the incoming spaceships (you can shoot more bullets after either the bullet has struck a ship or has reached the edge of the screen). If the one of the spaceships' bullets, or the meteor, hits you, you lose one life. You have 3 lives in the game. The number of levels in the game is infinite. You score points for each destroyed enemy ship. If you pass a level in a short period of time, you will get a bonus (additional points). You are given an additional life for the every 75 bonus points you earn (if you have less than 3 lives). The hearts in the information field represent the number of lives you have. The game ends when you lose all your lives. You are the best if your score is the highest.
Press <Left/Right arrows> to move your ship left or right.
Press <Enter> to shoot.
Press <Tab> to view Best Scores list.
Press <Esc> to exit to the game menu or restart the game.
COPYRIGHT © 2001 CYBIKO, Inc.

Other Resources
Let me know what you thought! Tweet me at @normankev141