Dark Chess 2
By Kevin Norman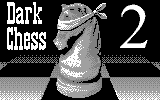 This is an interesting and fun variation of Chess. You can see only your part of the board at the beginning. The board is "opened" when you move your pieces. See standard chess rules and difference for this variation in our site www.cybiko.com.
Press <Arrows> to move the pointer.
Castling is defined by the king's move: choose the king by pressing <Enter> and move it to follow the castling.
Press <Enter> to select a piece or to move it.
Press <Select> to switch the pawn when it reaches the opposite side.
If you want to see your rating and that of your opponent, press <R> . Press <Enter> to close the rating box.
Press <Esc> to exit the game.
Version 2.2.19
COPYRIGHT © 2000 CYBIKO, Inc.

Other Resources
Let me know what you thought! Tweet me at @normankev141