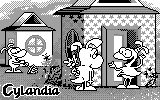 Version 1.24.45
Welcome to CyLandia, the bright and mysterious CyWorld where your new friend Cy-B lives and grows! Your Cy-B will learn about life, develop proper habits, teleport, and trade with other players, get married and give birth to new Cy-Bs! Have fun, and good luck!
The goal of the game is to help your Cy-B live a full life to a ripe old age. If you take good care of your Cy-B, your score will reflect it! The more successful you are in developing your Cy-B, the higher your score will be! So keep a close eye on Cy-B, and don't let your Cy-B go astray!
Cy-B passes through five levels during Cy-B's life:
The first level, in which your Cy-B is small, fragile, and earless, lasts about 3 CyYears (3 human days). During this time, you must teach your Cy-B to eat, drink, go to the bathroom, wash hands and wash up, play sports, clean the room, and treat Cy-B's diseases.
During the second level, which lasts about 15 CyYears, your Cy-B is grows larger, but is still earless. The main objective during this stage is to prepare your Cy-B for a job. You must teach Cy-B to study, excel in sports exercises, and communicate with other Cy-Bs.
The goal of the third stage is to find a good job. Now Cy-B has ears and must perform all actions without your assistance. Cy-B can get a job by reading the annual newspaper. If Cy-B's capabilities satisfy the requirements of this vacancy, Cy-B gets a job.
In the fourth level, Cy-B is an adult, can fall in love and get married, enjoy family life and have a baby.
In the fifth stage, after your Cy-B has lived a long, prosperous life in CyLandia, it's time to take a rest: But don't worry - one day you'll go to CyLandia, hear someone knocking and see the door vibrating again! Open it and you'll discover your new Cy-B!
Read full game description on our site www.cybiko.com
COPYRIGHT © 2000-2001 CYBIKO, Inc.

Other Resources
intro-pic.png - Screenshot of PicView.exe from Cybiko SDK
root-ico.png - Screenshot of PicView.exe from Cybiko SDK
root-spl.txt - Text file converted from iso-8859-1 to utf-8 using iconv
Let me know what you thought! Tweet me at @normankev141