Cut Throat
By Kevin Norman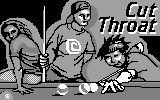 Version 1.1.52
This three-player game is played on a billiards table with six pockets. The object of the game is to be the last player remaining in the game. A player knocks a cue ball with a cue, trying to put a ball into a pocket according to the rules. Each player has his/her own balls; either light, dark or striped. The player with striped balls starts the game. The order of turns is as follows: striped, light, and then dark.If a player sinks a ball (not the cue ball), he/she gets another turn. Otherwise, another player takes a turn. If any player sinks the cue ball, the turn goes on to another player and he/she must place the cue ball on the right quarter of the table. If he/she sinks a ball in this turn but the cue ball doesn't leave the right quarter, or it touches a ball that is located in the same right quarter, then the next turn belongs to the next player. When any player has all his balls sunk, he/she is out of the game. The game ends when only one player has balls left on the table. This person wins the game.
For full detailed rules see our site www.cybiko.com.
Press or hold <Arrows> to choose the necessary angle of the cue.
Hold <Enter> to archive the strongest shot or select the keys from <1> to <9> to hit with definite strength beginning from the most easy to the strongest respectively.
Use <Arrows> then press <Select> to place the cue ball.
Press <Tab/Esc> to show/hide info screen.
Press <Esc> to exit the game.
COPYRIGHT © 2001 CYBIKO, Inc.

Other Resources
Let me know what you thought! Tweet me at @normankev141