Cheese Hunt
By Kevin Norman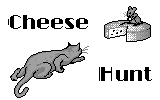 Version 1.1.18
This is a single player game in which you maneuver a mouse through a maze. The object of the game is to eat all of the cheese blocks, while avoiding all the cats. When all the cheese is eaten, you will advance to next level. The game has 15 levels. At the beginning of the game, you have 4 lives. If you come in contact with one of the cats, you will lose a life. The Limburger cheese can be used, after it is eaten, whenever you wish, and you will scare the cats away for 5 seconds. However, it cannot be carried on to the next level. The maze may have exits on the sides. They are connected so as if the mouse goes into an exit, it transfers to the opposite side of the maze. You score points for every cheese block eaten. An additional life is given for every 200 points you earn. The game ends when you pass all 15 levels, or when you lose all your lives.
Use <Arrows> to control the mouse.
Press <Enter> to use the Limburger cheese.
Press <Esc> to exit or restart the game.
COPYRIGHT © 2001 CYBIKO, Inc.



Other Resources
Let me know what you thought! Tweet me at @normankev141