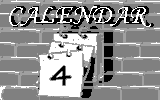 Version 1.1.11
How often does it happen that you are dying to know which day of the week a certain date falls on, be it an anniversary, a friend's birthday, or a party you were supposed to attend? Now you won't have to worry about carrying bulky day-timer. You have an electronic calendar that is always with you. A creation so simple, and yet so very important, and you won't even have to buy a new one each year, as our calendar will last much longer than your lifetime!
Use <Left/Right arrows> to select the month.
Use <Up/Down Arrows> to select the year.
Use <Shift> <Up/Down arrows> to skip 10 years.
Use <Fn> <Up/Down arrows> to skip 100 years.
Press <Esc> to exit the application.
COPYRIGHT © 2001 CYBIKO, Inc.

Other Resources
Let me know what you thought! Tweet me at @normankev141