Bug Races
By Kevin Norman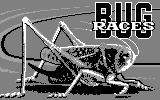 Version 1.1.1
This game is for 2 to 4 players. Your object is to wipe out your opponents while directing all your 4 figures into the diagonal line on the playing board.Each player begins the game with one figure, staying in its own corner. Each player in turn rolls the die and his/her figure moves around clockwise on squares in accordance with the number that falls down on the die. It is impossible to move over the opponent's figures that are in your way. You may destroy the opponent's figure if it is on the square where you have to move, move your other figure (if it is in the game), or pass the move if you have no other figures. The player may put a new figure into the game only when he/she rolls a 6. He/she may also choose not to add a new figure, and then he/she moves and rolls again. Once you get a figure around the square, you get to move them into the center, where you try to align four in a diagonal line. The object is to be the first player that directs all four figures into a diagonal line.
For full detailed rules see our site www.cybiko.com.
Press <Enter> to start rolling the die, then press <Enter> to view the figure that you move, and then press <Enter> to move the figure.
Press <Select> to add a new figure (if you roll a six), or to choose the figure you want to move (if there are more than 1 figures on the playing board).
Press <Esc> to exit the game.
COPYRIGHT © 2001 CYBIKO, Inc.


Other Resources
Let me know what you thought! Tweet me at @normankev141