Bubble Bug Blast 2-1
By Kevin Norman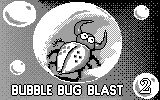 This is the single player game. You start out with three lives, and all you have to do is blast the bubbles with your bug, which will give you points! Sound easy? Nope! Watch out, because when you blast the bubbles, they break and cause baby bubbles to bounce boisterously!
The game has infinite number of levels, and each one is harder than the one before it. As you move through them, the number of bubbles you need to blast grows! When you hit a bubble, it'll break into smaller pieces, and those pieces will break into even smaller pieces, until finally Bam! You've popped the bubble! But be careful, because if you run into a bubble, your bug might bust!
The game ends when you lose all your lives.
Use <Left/Right arrows> to rotate the bug.
Press <Up arrow> to accelerate the bug.
Press <Tab> to stop the bug.
Press <Enter> or <Space> to fire.
Press <Select> to place the bug randomly on the screen.
Press <Esc> to exit to the game menu.
Version 1.1.20
COPYRIGHT © 2000 CYBIKO, Inc.

Other Resources
Let me know what you thought! Tweet me at @normankev141