Blackjack
By Kevin Norman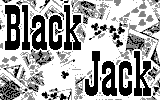 The most popular card game. The principle is to assemble cards whose value is exactly 21 or is closest to 21 but does not exceed this magic number. The game can be played until one of the players has the points in the pocket.
Use <Arrows> to set a bet.
Use <Left/Right arrows> to select "hit" or "stay".
Press <Enter> to accept your game actions and to continue playing the game after you have read your status messages. You have to wait during "Wait…" message.
Press <Esc> to exit.
For full detailed rules, visit our Web site: www.cybiko.com
Version 1.1.1
COPYRIGHT © 2000 CYBIKO, Inc.

Other Resources
Let me know what you thought! Tweet me at @normankev141