BB2 Inner City Bad Boy
By Kevin Norman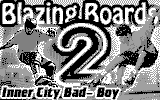 Version 1.3.12
Speed through the Inner City Bad-Boy track while nailing some awesome tricks! Time your ramp jumps to catch massive air for the most awesome tricks. Skate over 5 blaze icons to earn a BLAZING board! Blazing is worth double trick points until you bail. Score the biggest rewards for landing a VARIETY of tricks. The more tricks you conquer, the more you score. For full detailed rules, visit our Web site: www.cybiko.com.
Press <Space> to go to the Game menu.
Use the <Left/Right arrows> to move side-to-side.
Want to jump? Press <Enter> , dude. The longer you hold the button, the higher you jump. Want to grind? Line up with the rail.
Tricks are hidden on the <Arrows> , <Tab> , <Select> , <Ins> , <Enter> and <Del> buttons. Here's some to get you started:
<Select> <Right arrow> = Frontside 180
<Enter> <Down arrow> = High Jump
<Enter> then <Tab> = 360 Spin
<Right arrow> on rail = Boardslide
<Tab> = Kickflip
<Del> <Right arrow> = No Comply
<Ins> = Coffin
<Select> when on fire = 540 Shove-It
<Tab> <Left arrow> when on fire = Double Heel
Can you find all the other tricks?
COPYRIGHT © 2001 CYBIKO, Inc.

Other Resources
Let me know what you thought! Tweet me at @normankev141