Baja Beast
By Kevin Norman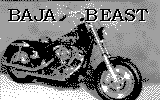 Version 1.1.15
This is a single player game. You are a motorcyclist and your goal is to catch up to the rival gang's leader in the shortest amount of time in order to save your fiancée. There are 6 levels in the game. Upon starting the game, your white motorcycle goes up against four black enemies motorcycles on the open road. Try to overtake them. The pools of water along your way cause you to slow down. If you manage to ride up on top of any passing traffic (not an enemy motorcycle), you will be protected from the pools for a little while. Upon the collision with any traffic you lose a life. When you reach the enemy motorcycle, try to destroy it, or it may kill you. When you pass the rival gang's leader, you set your fiancée free. You have to pass the level in a limited amount of time to proceed to the next level. The game ends if you fail to pass the level in the limited time or if an enemy kills you. You win if you pass the track in limited time. (You set your fiancée free).
For full detailed rules, visit our Web site: www.cybiko.com
Use <Up/Down arrows> to move your racer left or right on the road.
Press <Enter> to accelerate.
Press <Del> to decelerate.
Press <Right arrow> to swing your chain.
Press <Esc> , and choose the "Quit" button, to exit the game.
COPYRIGHT © 2001 CYBIKO, Inc.

Other Resources
Let me know what you thought! Tweet me at @normankev141