All Access
By Kevin Norman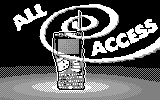 Version 1.1.5
This application will deliver the news to you on different topics of information. You may read, remove and keep bulletins, and stay updated on the hottest news.
Use <Left/Right arrows> to choose the icon of the topic of information and press <Enter> to view its news.
Press <Del> to delete the news.
Press <Esc> to quit the application.
COPYRIGHT © 2001 CYBIKO, Inc.

Other Resources
Let me know what you thought! Tweet me at @normankev141