Alien Invasion
By Kevin Norman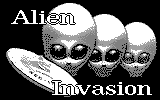 This is a single player action game. The object of the game is to rescue as many captured aliens as possible using your flying saucer. You must fly this saucer to the building where the aliens are being held hostage, pick them up, and drop them off on the landing pad next to the mother ship. The flying saucer can only carry 10 aliens. If you attempt to land the flying saucer while it is moving fast, the flying saucer will explode, and one life will be taken. If the flying saucer collides with a hostage building, enemy tank, or a bullet from an enemy tank, the flying saucer will explode and one life will be taken. Your saucer can shoot a small laser burst towards the ground. Guard tanks are your enemies, they shoot at your flying saucer. Each level has defined number of missions. One mission is considered as completed if there are no any aliens in the hostage building you have to save. The next level begins if you complete all missions of current level and guide your ship into the gate, which opens before you. If you lose all "lives" the game ends.
Use <Arrows> to move flying saucer.
Press <Enter> to fire.
If you want to see the toolbar with information about level, mission and best score press <Space> . Press <Space> again to close the toolbar.
Press <Esc> to exit or restart the game.
Version 1.1.3
COPYRIGHT © 2000 CYBIKO, Inc.

Other Resources
Let me know what you thought! Tweet me at @normankev141