Air Brigade
By Kevin Norman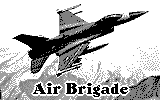 You are a fighter pilot armed with a machine gun and missiles. Your enemies are equipped with the latest technology! They come at you in planes, helicopters, and super-sonic fighters! You must destroy them all! Each 5,000 points you rack up will give you an additional life. There are also bonuses in the air: speed, rapid fire, extra life, health, and missiles. Destroy as many of the enemy you can before your end closes in! Good luck!
Use <Arrows> to control the plane.
Press <Enter> to fire the machine gun.
Press <Select> to fire missiles if you have them.
Press <Esc> to exit.
Version 1.1.39
COPYRIGHT © 2000 CYBIKO, Inc.

Other Resources
Let me know what you thought! Tweet me at @normankev141