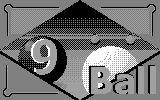 This is a version of billiards. You must shoot the cue ball so it hits the ball with the lowest number on the table. Don't sink the cue ball. To win, sink the 9 ball. For detailed rules, see our Web site: www.cybiko.com
Use <Arrows> to move the hand with a cue ball and to set the cue hit direction.
Press <Select> to place the cue ball.
Hold <Enter> for a length of time and then release. The longer you hold down <Enter> , the stronger the hit will be.
Press <Tab> to switch on/off status info screen.
Press <Esc> to exit the game.
Version 1.2.8
COPYRIGHT © 2000 CYBIKO, Inc.

Other Resources
Let me know what you thought! Tweet me at @normankev141