Princess of Cylandia
By Kevin Norman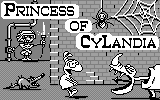 Version 1.1.22
You are the little princess of Cylandia, Cy-P, and your object in this single player game is to pass all the levels of the dank tower in order to fight the terrible sorceress Cy-Zillah to set your brother free.
Sinister enemies will meet you during your travel: ghosts, skeletons, rhinodogs, spears (they rise from the ground and look like grass), rats and many other treacherous enemies. Dispose of them and you'll get points. Pick apples, for they are your weapon to throw at the enemies, and pick up the torches to get points. During each impact with the enemy, you will lose some health. You have three lives in the game, so be careful, for you have to pass 8 levels.
If your Cy-P loses all her lives, the game ends. If she passes all the levels and defeats the evil Cy-Zillah, the game will have happy end: sister and brother will be reunited! Try to get the maximum number of points to get into the Top 10!
Use <Left/Right arrows> to move left or right.
Press <Enter> to jump.
Press <Select> to throw the apple.
Hold <Ins> to view the info screen.
Press <Esc> and select "Exit" to exit to the Start Menu.
COPYRIGHT © 2001 CYBIKO, Inc.


Other Resources
Let me know what you thought! Tweet me at @normankev141